I have a 1985 Ford F250 four wheel drive that has served many, many purposes. To pulling heavy trailers and loads up Palomar Mountain, moving friends and family, to pulling out large tree stumps, this is a vehicle that can take abuse. It started life as a diesel, but now has a 460 cubic inch V8 (7.5 liters) with 84 gazillion foot-pounds of torque such that its almost impossible to stall once it gets going. Getting it going, especially in the cold, is another matter. But cans of quick start, two heavy duty batteries, and a solar charger on the roof help. I think it had about 375,000 miles on it when I gave it away.
It's only gotten stuck once, on a very steep dirt hill on our property with 8" of snow on the ground and wet leaves underneath. I had to wait until the spring thaw to get it out. It was due to a novice driver's (me) error, it was no failure of the truck.
My wife Peggy doesn't really like to ride in my truck. She says the ride is too rough, but I think its also the lack of "interior appointments" as Detroit would try to convince you. Gershwin loves to ride in my truck, he thinks the interior appointments are just fine.
Al Gore also does not approve of this truck; and it is damaging to my carbon-negative approach to life. But carbon neutral is for wimps.
Below: Hauling a skid-steer loader up the mountain (5450 foot climb). Gross trailer weight: 8600 pounds. Our stone driveway has one very steep segment and one wet spring day the combination started to slide backwards into the ditch going up that segment in 2 wheel drive, the load was simply too heavy. Fortunately 4WD svaed the day. Putting it in 4WD in these trucks meant getting out and locking the front hubs as well as several careful manipulations inside the cabin of the truck.
Below: Hauling and splitting wood.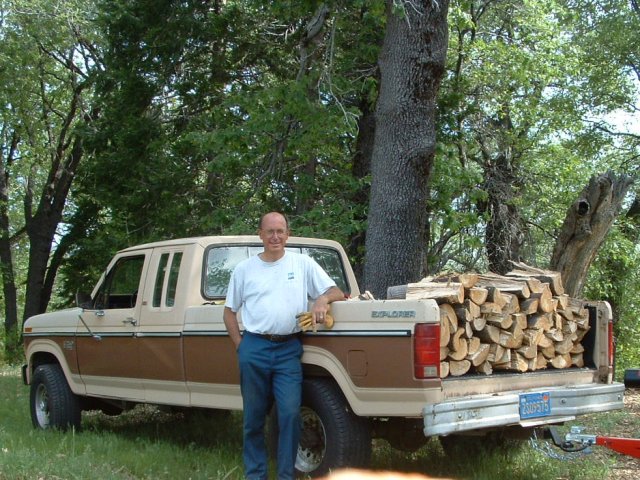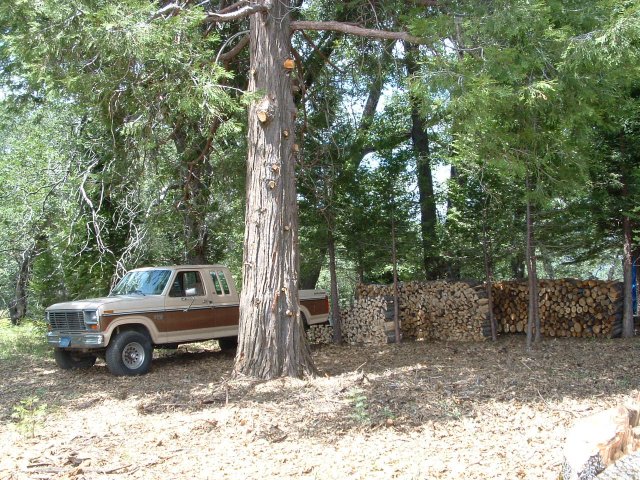 Below: Two of my F250's best friends...
To the left: Dutch Berman's D7, to the right, a CAT 560B.
July 1, 2010 RIP my old friend...
Donation to a charity organization, cost of keeping the truck running unjustified for the amount of use that it gets. Hated to see it go...